Rocket League's rapid growth in popularity since 2015 has played a major role in the launch of the Rocket League Championship Series (RLCS).
Beginning in 2016, the idea for starting an Esports league for the game was based on the number of competitive streams that were being shown on platforms like Twitch. 
There has been seven seasons of Rocket League Esports since IBUYPOWER won the very first championship all the way back in 2016. But, despite Rocket League's popularity, both as a game and as an Esports game, it's not quite on the level of the elite. 
The game may be viewed as a second or third-tier game when being compared to Esports juggernauts such as League of Legends and Dota 2. However, it is speculated things changing in the future, where Rocket League can join an elite group of Esports titles. 
It may not reach the levels of the other two games that were mentioned earlier, but it is widely believed that it can rise up the food chain. One of the big things that may help the RLCS grow, is how easy it is to consume and explain the rules of play during games. 
Easy to watch, easier to play
Rocket League is extremely easy for new fans to pick up for spectating and playing. Much like soccer and hockey, its simple goal-to-goal style scoring is not overwhelming to follow as a viewer, especially if they're a new fan of Esports. 
The games will come very quickly, and that can be a good thing. One reason why the NBA is growing so fast is that the action is almost non-stop, making it more fun to watch for the younger audiences who appreciate speed.
The pace is one thing that has helped League of Legends and Dota 2 do so well among other Esports games.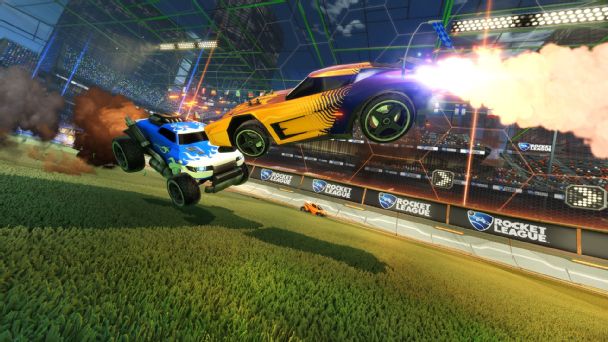 The same applies to Rocket League. Its concept is simple and to the point, and the speed is just right for fans to take in. 
On top of this, matches can be so intense and unpredictable. Competitors may be playing a casual match where it is nothing but scoring from both teams. Or, they may get those suspenseful games, where it's scoreless for essentially the entirety of the game. 
An affordable esport
But the thing that is really going to help the RLCS is its aforementioned consumability. When something is easy to understand, there's a solid chance that the esports community will adopt it with open arms. 
Not to mention, there are multiple groups of fans who might enjoy Rocket League such as soccer fans, racing fans, car enthusiasts, sports fans and general gamers just to name a few.
It's a game that can appeal to a vast amount of people, so when combining that with its viewability, it's a game that can definitely make a charge up the Esports leaderboard. 
Another thing that works in its favor is how affordable the game is. The start of its popularity began thanks in part to the game being free on the PlayStation Store  No longer free, the game is still pretty cheap at $20. 
Growing the esport, one console at a time
Rocket League has surpassed 50 million players worldwide, and as time goes on, that number should grow. 
One other thing that is growing the community and game popularity is giving players the option to watch tournaments live from their console.
Usually, when there is an event going on, there will be a new menu option in the game, letting players and viewers know that they can watch whichever matches are live. 
That in itself is a convenient way to take in a match. Quite frankly, appreciation for that convenience is contributing to the games growth in esports.
It may take a while for the Rocket League Championship Series to reach the heights of the elite, but it's taking a step in the right direction.
The game has come a long way since the days of Super Sonic Acrobatic Rocket-Powered Battle-Cars, and as Rocket League evolves, there's a great chance its presence in esports will as well.
Written by Colin Mieczkowski