These are the top 10 female Twitch streamers in 2020 based on views from January 1 to July 15, according to a recent report. Ever since the world's first all-female esports team five years ago, streaming became a career for many female gamers. It's thanks to the continued growth of female representation in the scene that the male-dominated industry shifted. So who are the top 10 female Twitch streamers in 2020 by viewership?
Top 10 Female Twitch Streamers of 2020 (by viewership)
9. & 10. BotezLive
Alexandra & Andrea Botez make up the ninth and tenth spots on the list. The two sisters stream chess, which saw a surprising amount of online growth.
Followers: 293,000
Watch time in 2020: 3.1 Million Hours
8. Modestal
Number eight on the list, Ksenia Modestal is a big advocate for the Just Chatting category on Twitch. She and her brother Andrei engage in discussions between themselves and Twitch chat.
Followers: 309,000
Watch time in 2020: 3.4 Million Hours
7. Loeya
Since starting in 2017, Olivia "Loeya" streamed Fortnite and Minecraft to high success. An entertaining personality behind the screen, she's gathered over 1 million followers.
Followers: 1,200,000
Watch time in 2020: 3.6 Million Hours
6. LilyPichu
Lily Ki has been a gamer for over a decade, first seeing fame with her YouTube career. As a streamer, artist, and singer-songwriter, LilyPichu uses a wide array of talents and focuses on League of Legends for 1.3 million Twitch followers.
Followers: 1,300,000
Watch time in 2020: 4.9 Million Hours
5. 2chamcham2
A South Korean League of Legends streamer, Kim Jeom-rye holds over 5 million hours of watch time by Twitch viewers. She was also a top female Twitch streamer in 2019 too.
Followers: 483,000
Watch time in 2020: 5.1 Million Hours
4. Amouranth
Streaming ASMR for years, this model is one of the most popular female Twitch streamers. Kaitlyn Siragusa recently started streaming Animal Crossing too.
Followers: 1,600,000
Watch time in 2020: 6.5 Million Hours
3. Jinnytty
Jinny is notable among streamers by creating her own form of fan currency, Yoomcoin, letting fans earn prizes through her Twitch channel.
Followers: 337,000
Watch time in 2020: 6.6 Million Hours
2. Sad Dummy
2019's most-watched female streamer, Seo Sae Bom Nyang plays League of Legends, Animal Crossing, and a variety of other titles.
Followers: 570,000
Watch time in 2020: 9.7 Million Hours
1. Pokimane
Imane "Pokimane" Anys, the top female Twitch streamer, and arguably the world's most popular female streamer, takes the top spot. She's used 2020 to massively grow her audience, especially through picking up VALORANT. Even when including male streamers, she holds the fifth-highest following for active Twitch streamers.
Followers: 5,200,000
Watch time in 2020: 11 Million Hours
Interestingly, the top 10 female Twitch streamers by viewership are different when looking at followers. Though four streamers carry over, a new list is needed when looking at Twitch followers.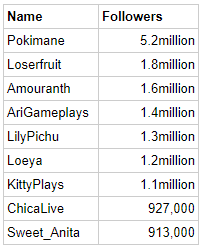 Females make up almost half of the gamers worldwide but see an unequal amount of representation and unfair treatment. This is especially seen in the recent culture shift where the esports and gaming industries finally held their own MeToo movement, resulting in a purge of power abusing workers.
Famed esports caster Paul "Redeye" Chaloner was one of many who have now left the scene because of the evidence against him. The fighting game community's biggest event of the year, Evolution Championship Series, also known as Evo, ended up canceled. The cancelation came just one day before the event's start when sexual harassment accusations rose against former Evo CEO Joey "MrWizard" Cuellar.
Because of the sexual misconduct allegations coming out in the esports, gaming, and streaming industries, it's never been more important to highlight female gamers. These top 10 female Twitch streamers represent a change in the industry. Boasting massive amounts of followers and watch time, these streamers show that equality may soon come to esports.
Written by Justin Amin